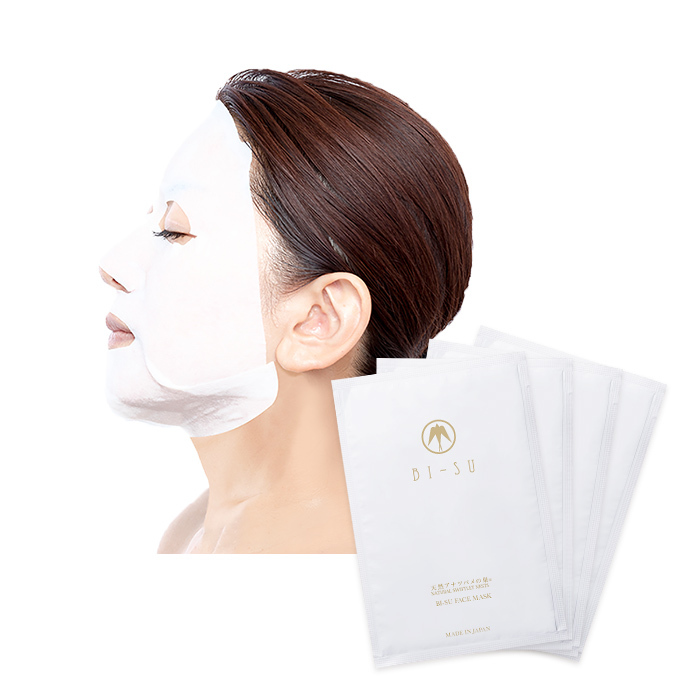 BI-SU Bird's Nest Essence Efficient Moisturizing Mask
Contents: 4pcs/pack
A premium facial mask contains essence abundant skincare ingredients including swiftlet's nest extract and EGF to nourish and hydrate your skin
Product Features

Each mask contains 27ml beauty essence made with rich swiftlet's nest extract, argan oil, collagen and 53 kinds of ingredients which provides extraordinary hydration and comfort to the skin.

Ingredient List

Ingredient: water, propanediol, glycerin, hydrolized swiftlet nest extract, pentylene glycol, white jelly fungus, polysaccharide, shea butter, betain, rose myrtlefruit extract, ceramide 3, allantoin, glycyrrhizin 2K, artichoke leaf extract, sphinogomonas extract, saxrifage stoloneifera extract, scutellaria root extract, rosa multiflora fruit extract, wild thyme extract, lemongrass leaf/ stlak extract, silver vine fruit extract, succinoyl atekocollagen, yhoshino cherry, aloe verra leaf extract, rose myrtle fruit extrtact, processed prune, soybean extract, mandarin orange peel extract, plum fruit extract, lavender oil, sodium acetylated hyaluronate, sodium hyaluronate, hydrosed hyaluronic acid, tocopherol, ascorbyl tetrahexyldecanoate, vitamin A oil, lanolin, glyceryl glucoside, phytosteryl/ octyldodecyl lauroyl glutamate, hydrogenated lecithin, PEG 60 hydrogenated castor oil, (styrene/VP)copolymer, sebacic acid, 1,10-decanediol, triethylhexanoin, BG, diphenyl dimethicone, xanthan gum, hydroxyethyl cellulose, ethylhexyl glycerin, glyceryl caprylate, sodium cytrate, polyglyceryl-10 myristate, citric acid, 10-hydroxydecanoic acid

* Tested for patch test and stinging test

How to Use

After face cleansing, remove the mask from the package and spread it.
Adjust the mask's chin part and paste them by aligning the center line of the mask to the center line of the face.
Lightly hold the mask with your palm and stick them to the face.
Remove the mask after approximately 10 to 15 minutes.
Rub the remaining essence on your face with your hands.

Caution

※ In case of contact with eyes, rinse with clean water immediately without rubbing.

※ Please discontinue usage if you have any skin scratches, swelling, dampness, rash, etc.,

※ Please use while observing any abnormality on your skin.

※ When abnormalities such as redness, swelling, itching, irritation, color loss (white group etc.) and darkening appear, discontinue usage and consult with dermatologists.

※ Please do not use the mask for a long time or sleep while using mask.

※ For hygiene purpose, please do not re-use the mask.

Storage

Do not flush the mask with water as it is not soluble in water.
Please keep it out of reach of children.