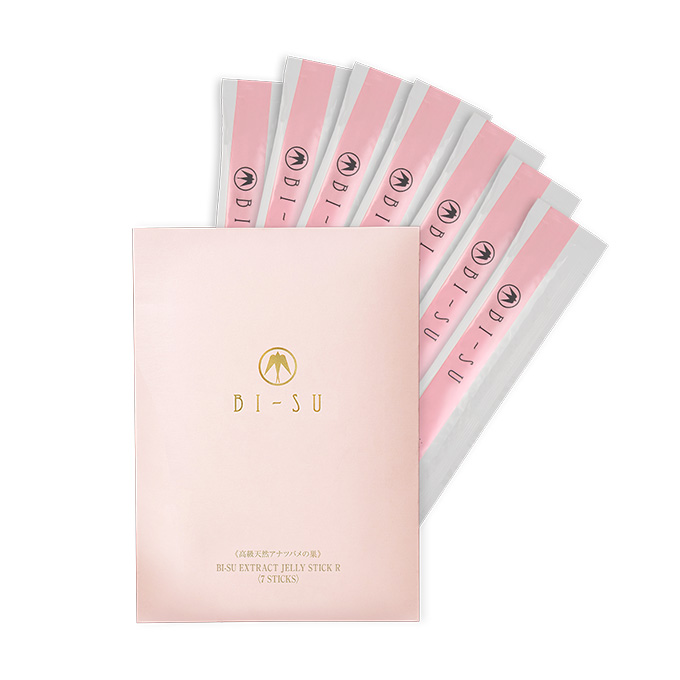 Bird's Nest Collagen Beauty Essence Jelly (Rose Flavor) 7pcs
Contents: 0.42oz/pc
Jelly with swiftlet's bird nest extract, collagen and real rose extract.
Product Features

Formulated using natural Swiftlet's nest and rose essence, the product is rich in collagen, white mushroom essence, and vitamin C. A sachet contains multiple nutrients essential for beauty care to let you emanate youth and vitality from within.

Ingredients · Nutrition ingredient display

Ingredients name: Rose flower extract (manufactured in Japan), Beetroot sugar, Swiftlets Nest Extract, Fish Collagen Peptide (including gelatin), White Jelly Fungus Extract, Wild Grass Fermented Extract / thickening agent (polysaccharide thickener), Vitamin C, Citric Acid

Shelf life: 2 year from the manufacturing date

Nutritional component of 1 stick (per 12 g)
Energy
11.5kcal
Carbohydrate
2.53g
Protein
0.35g
Salt Equivalent
0.01g
Lipid
0g

* Analytical test results by the Japan Food Research Laboratory

How to Consume

As a guide please consume 1 stick per day. You can consume it directly as a snack or desserts. Refrigerate to make it taste even better. Convenience size to bring it on the go. Please enjoy it in your favorite place at your favorite time.

Caution

※ Please check the ingredient and refrain usage if you have any allergies.

※ For those who are pregnant or on breast feeding, please consult your doctor before consuming

Storage

Store in a cool area away from high temperature and direct sunlight or keep it refrigerated.
Open the packet carefully not to scatter the contents.
Please consume immediately once opened
※ Because you are using all natural materials, the contents may discolour, but there is no problem on the quality.